But a family emergency interrupts all his plans. Suddenly Cary finds himself back in his hometown, Glenkerry, in County Wicklow. There he reconnects with an old friend, Rosie O'Malley. Her story has always been a sad one, and now it seems history is repeating itself. Her mother has disappeared, and Rosie is desperate to locate her. And Rosie's father and brothers are her biggest obstacles. So she turns to her old friend, Cary McGurk, for help. But it's complicated, with a web of secrets, lies, and mystery entangling them.
Cary is torn
—
torn between starting a new life in London and plunging back into his old life in Glenkerry, a place full of sweet memories tinged with sorrow and regret. His head is telling him to move on, but will his heart listen?
ROSE OF GLENKERRY:
A County Wicklow Mystery
by Robert T. McMaster. Unquomonk Press. Anticipated release date, 2023.
ALSO BY ROBERT T. MCMASTER

Four historical novels set in a New England industrial city in the World War One era.
With characters so lifelike they seem to jump right from the page and into the reader's heart and imagination.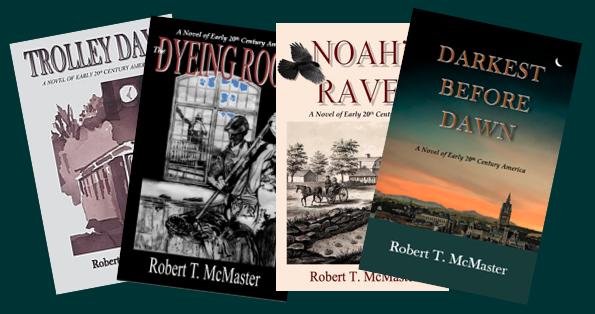 ---

The first biography ever written of one of 19th-century America's most influential scientists.